Finding an apartment in Berlin has been anything but easy in the last few years. More and more people are moving to Berlin. Investors are also pumping more money into the real estate market and driving house and rental prices up. It is not uncommon to see hundreds of people queued up for an apartment viewing.
For expats, it can be tougher due to the language barier. You can still increase your chances of getting an apartment with these tips.
What documents do I need to rent an apartment in Germany
Proof of income
The most common are payslips for the last 3 months. If you just moved to Berlin, you can also submit your work contract. For freelancers, your tax advisor can give you a certified statement of your income prognosis
Mietbürgschaft
This is an alternative for proof of income. A German/EU citizen or permanent resident can provide you with a rental guarantee.
Schufa
The Schufa is your credit score. Here is how you can get your schufa statement for free.
Copy of your passport or ID
Mietschuldenfreiheitsbescheinigung
This is a letter you request from your previous landlord/landlady stating that you do not owe any rent. If you just moved to Berlin, this is optional for you.
Application form (in some cases).
Some real estate companies may require that you fill a form. This might be sent to your email when you apply or when you show up for the viewing.
Websites and Apps
The most common way to find apartments in Berlin is online. You can use these websites. To be able to react fast, also install their apps.
Facebook Groups
1. Berlin Apartments
2. Flats in Berlin
3. Berlin long term rooms/flats
4. Queer Housing Berlin WG
These are the most popular websites and apps. I would recommend you concentrate your efforts on the big websites. But there are other websites you can also check out.
Wohnungsboerse
Kalaydo
Real Estate Companies
State-owned real estate companies
In Berlin there are about 323,000 state owned apartment that run by 6 non-profit institutions. The rent is fairly reasonable and you can be assured there will not be any unreasonable rent raises.
If you are living in an apartment owned by the state and would want to move, upsize or downsize, you can also swap with someone who also has a state owned apartment - without rent increase. You can find them on InBerlinwohnen.de
Private real estate companies
Here are some private real estate companies
Student apartments
Students can search on any of the platforms for offers are only available for students. Here are some student-only platforms.
How to improve your chances
You can increase your chances by standing out of the crowd.
Set up push notifications
Install all the apps and sign up for notifications for your search. Add email alerts if possible but email can be delayed.
Craft a carefully worded cover and have it ready to send
Apartment owners receive hundreds of responses even in the first 10 minutes. You should get some help with a good cover letter in German to help you stand out.
Complete your profile/bio
Upload your documents to the platform and have scanned copies ready
Look for the apartment on the company's website
Google the company that posted the listing and contact them through their own website.
Be early for the viewing
Bring a good personality to the viewing
Bring all your documents to the viewing
Post in a Facebook group
Do not be shy, post in any of the Facebook groups, you might be surprised
It helps if
1. You have a good schufa score
2. Have a good income
Using a real estate agent to find a flat
You can contract a real estate agent to look for an apartment for you at a fee. You can find a list of all certified real estate agents in Berlin here.
Short term rentals
Short term rentals are a good alternative while looking for a permanent place. You can look on the internet platforms for listings for short term rentals from people who are renting out their apartments temporarily.
Here are a few alternatives
How expensive it is it to rent an apartment in Berlin.
München is the most expensive city to live in Germany. This is the average price per square meter for major cities according to Statista.
Mehr Statistiken finden Sie bei
Statista
You can get cheaper apartments on the outskirts in areas like Spandau and Marzahn but they can be quite isolated for expats. Also, consider getting a shared apartment (WG). You can save on rent and utilities.
This is the latest rent map of Berlin from Immoscout showing how much you can expect to pay in Berlin for a 2 room apartment.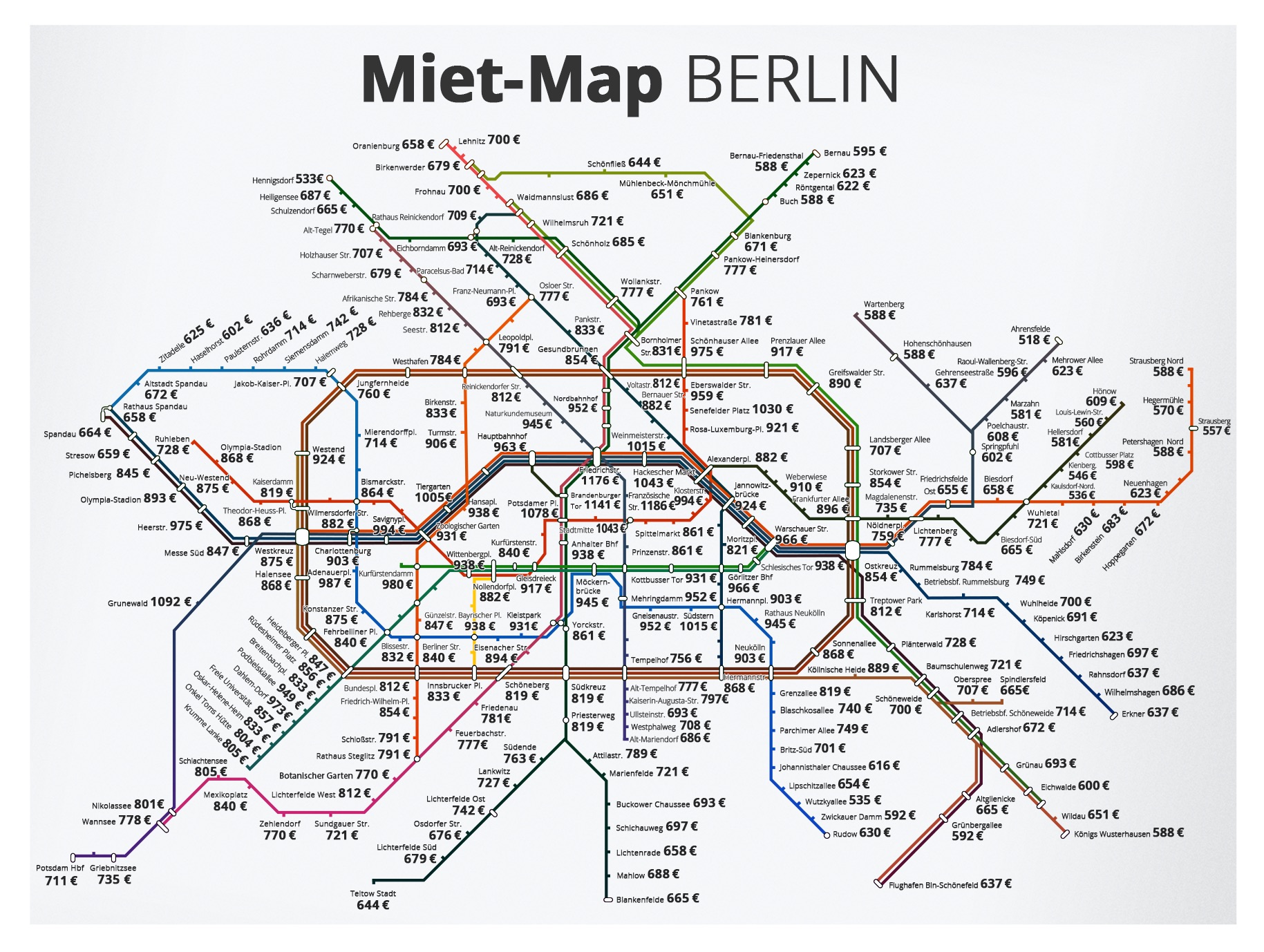 Conclusion
While it is hard finding a flat in Berlin, you eventually find one. Be social and ask in your circles. Be ready to react on new listings and be clear on how flexible you are on location and price. Best of luck!