What is the Deutschland Ticket
The 49 euro ticket is the successor of the 9 euro ticket that was introduced this summer in Germany. Just like the 9 euro ticket, you can now enjoy unlimited regional and public transport in Germany for a flat fee of 49 euros. This is supposed to encourage the use of public transport and reduce the use of private cars for travelling. Also, it makes transportation much more affordable to everyone in Germany.
How Much Does It Cost
Like the name suggest, the Deutschland ticket will cost 49 Euros. You can choose between a yearly or monthly subscription.
When and Where Can I buy The 49-Euro Ticket
The ticket is scheduled to be introduced from 01.01.2023. For users who already have a BVG subscription, you do not have to do anything. You will receive a letter from the BVG informing you about the transition. Before the new year, you should receive your new Fahrkarte in the mail.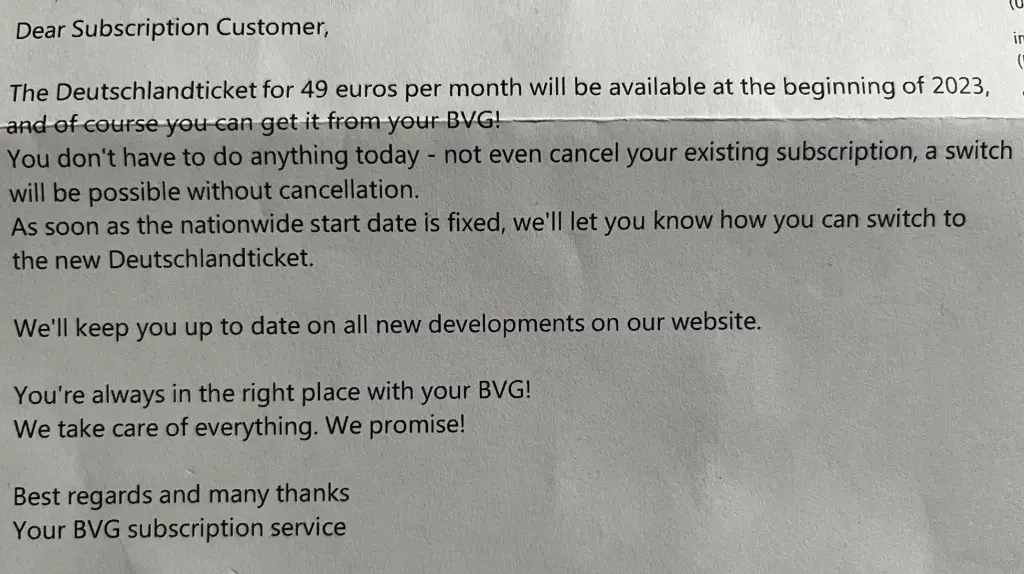 You could buy the 9 Euro ticket with the BVG app or Jelbi App earlier this year. It is expected that this should be available for non subscribers this time as well.
Frequently Asked Questions
What happens to my existing BVG subscription
You do not have to do anything. The BVG will send you a new ticket in time. Your payments will also be adjusted automatically.
Can I take my pet with me?
No, this ticket does not include pets
Can I board with a bike?
No, you will need to pay extra for taking your bike with you. How much to be paid for bikes will be determined by different regions.
Is the 49 Euro ticket transferable?
No, the Deutschland ticket cannot be transferred to another person.
I can take another person on weekends and evenings. Can I still do this?
No, this is not possible.
Will it always cost 49 Euros.
No, the 49 Euro price is planned first for a period of 2 years; after which it will be reviewed.
Can I use the ICE, IC, Flixtrain or EC.
No, the ticket is only for regional trains and public transport. Please get a ticket ICE, IC, Flixtrain or EC.