You might have heard most people say you do not need a car if you live in Berlin. That's mostly true for most people because public transport in Berlin is so good. Also, you have to justify the cost of owning a car if you will not use it as much and have more environmentally friendly alternatives. This is why carsharing has become so popular in Berlin in the last years. Now and then if you require a car for a short trip, grocery shopping, or you just do not feel like going to the U-bahn, you can pick up a car and leave it for the next person when you are done.
There have been a lot of companies in Berlin that have offered carsharing services; some of which do not exist anymore. In this post, you will find out which provider is best for you. There are some favorites when it comes to the cheapest, but more on that later.
What You Need to Register for Car sharing in Berlin.
There are some requirements for signing up for any of the car sharing services in Berlin.
Smartphone with the provider's app installed
EU driver's license
You should have had your license for at least 2 years (which is the end of your probation period in Germany)
WeShare was founded in 2019 as a completely electric carsharing service. They started out with e-Golfs, which they have phased out to using VW ID3 and ID4's. The new ID cars have longer range, which makes it safe enough to drive out of the city for a bit and not have to worry about running out of battery.
Pricing
WeShare's pricing varies slight differently depending on whether you are driving the ID3 or ID4. The ID4 is a more premium SUV type car with lots more space, hence the costing €0.34 compared to €0.26 for the ID3.

However, you can sign up for WeShare+ for €9.90 per month and reduce the price to €0.19 for the ID3 and €0.24 for the ID4. It is a good deal if you use it more frequently.

WeShare also have an unlocking fee of €1 per trip.
One pro of WeShare+ however, is that stopovers are quite reasonable. For €0.05 per minute, you can make stopovers without having to drain the bank. This would be about €3 for every hour the car is reserved for you, which is a fair price to pay for parking in Berlin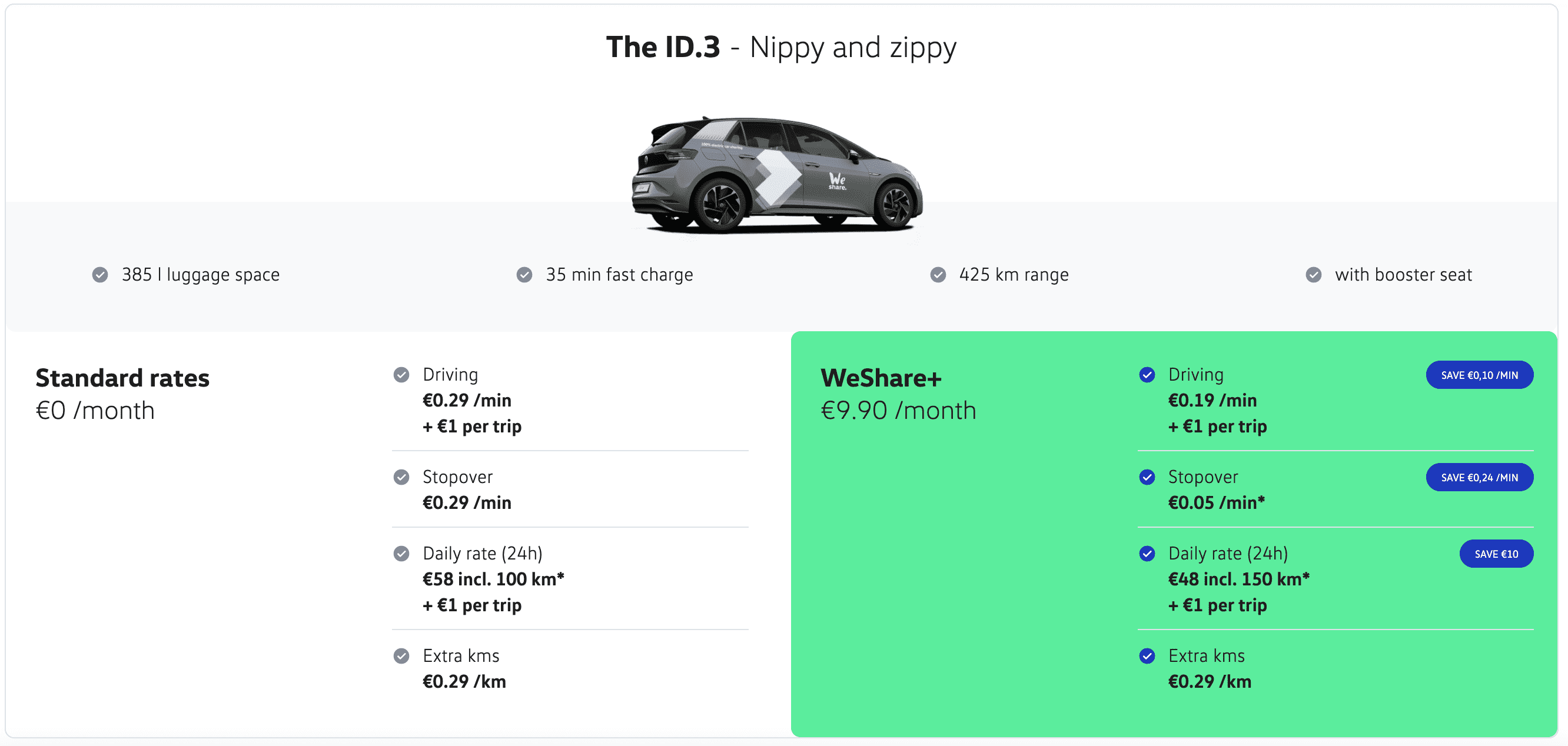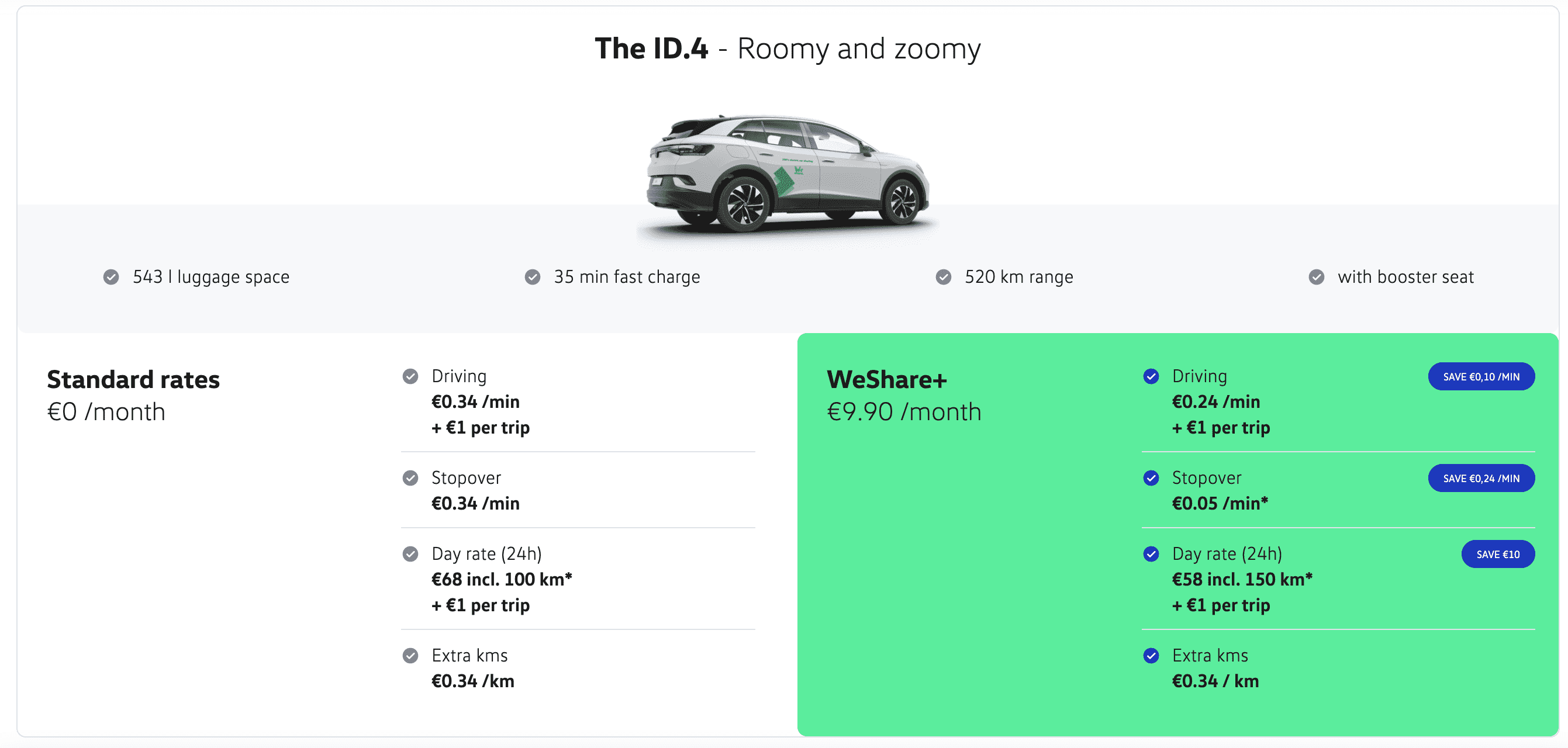 Service Area
WeShare is available in most of the central districts in Berlin. You can always use the app to check before you head out. You cannot end your rental outside the service area, but you can drive and make a stopover at any location. Likewise, you can also drive out of town to any city in Germany, but be careful not to run out of power on long trips.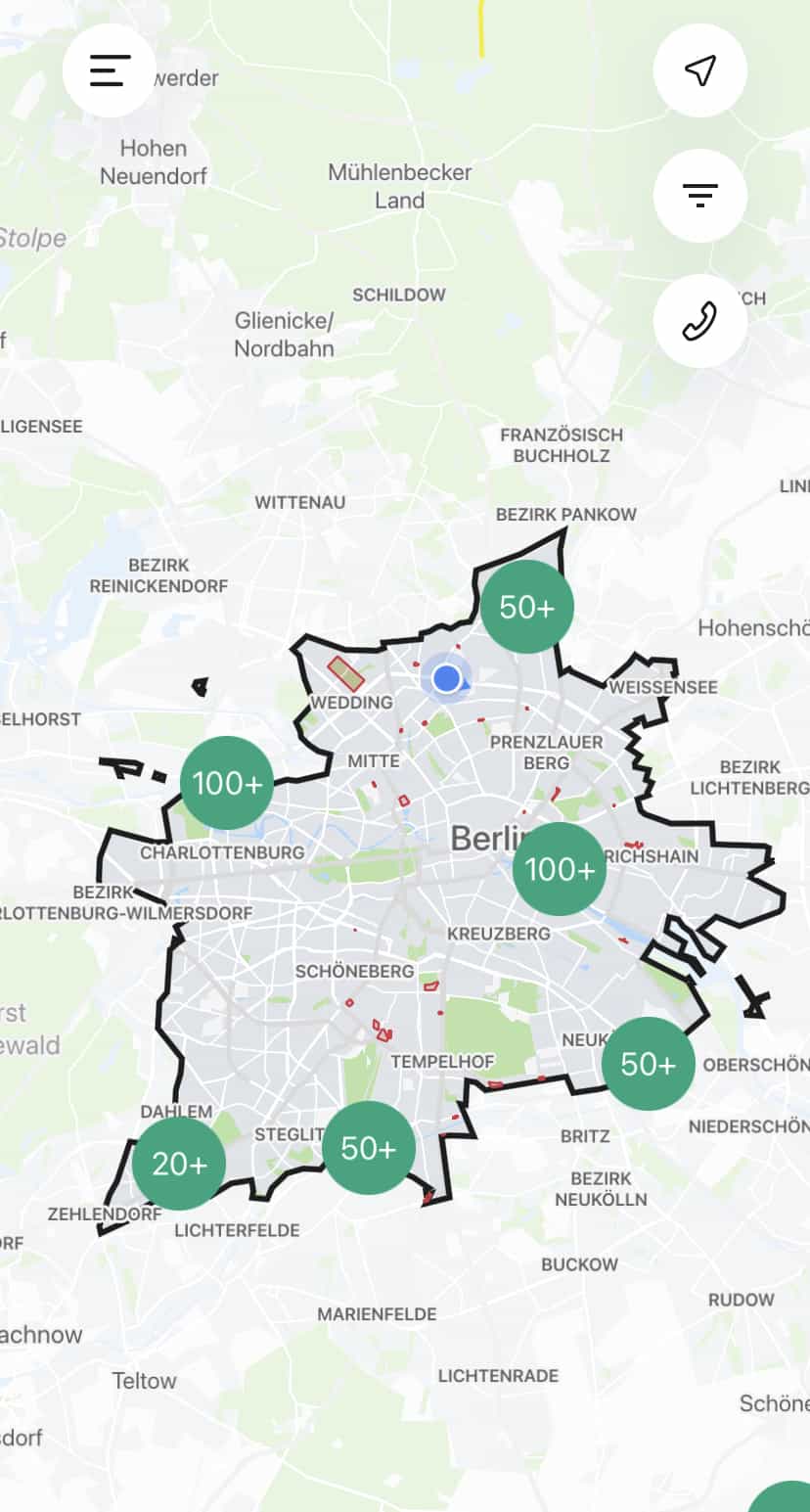 Offers
Here are some offer currently available for existing as well as new users of WeShare
ShareNow is one of the oldest car sharing services in Berlin. It is the brand created from a merger of what used to be Car2Go and DriveNow. ShareNow has a much bigger variety of cars in their fleet. The cars are in different categories, which also determines the price. You can be driving their lower end cars like the smart for two, fiat 500 to the middle class (Category S) which has cars like the Peugeot 208, MINI, Citroën C3. On the upper categories M and L, you will find cars like the Peugeot 3008, BMW X1, BMW X2, Mercedes-Benz A Class, etc.
Pricing
Share now has a more complex pricing structure compared to WeShare because of the different categories and time packages they offer. However, you can see this in the app before you start any rental. You also have the option to book any of the hourly or daily rates.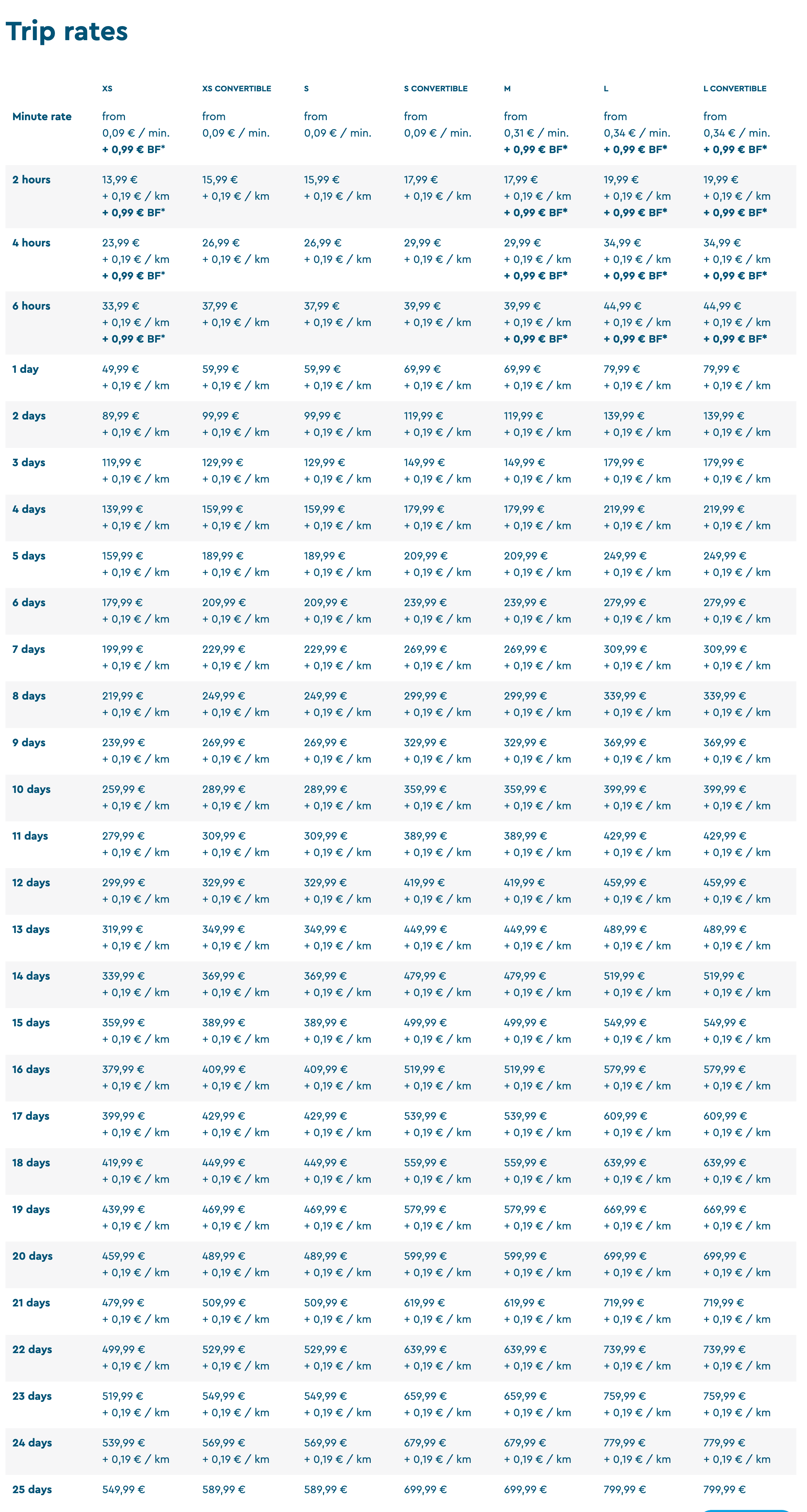 Service Area
You can use share now in most of the central districts in Berlin, as well as some location outside town known as zones. In these zones, you have to pay an extra drop-off fee of €2.99 or 4.99. The same applies to the Airport, where you have to pay a drop-off fee of €7.99.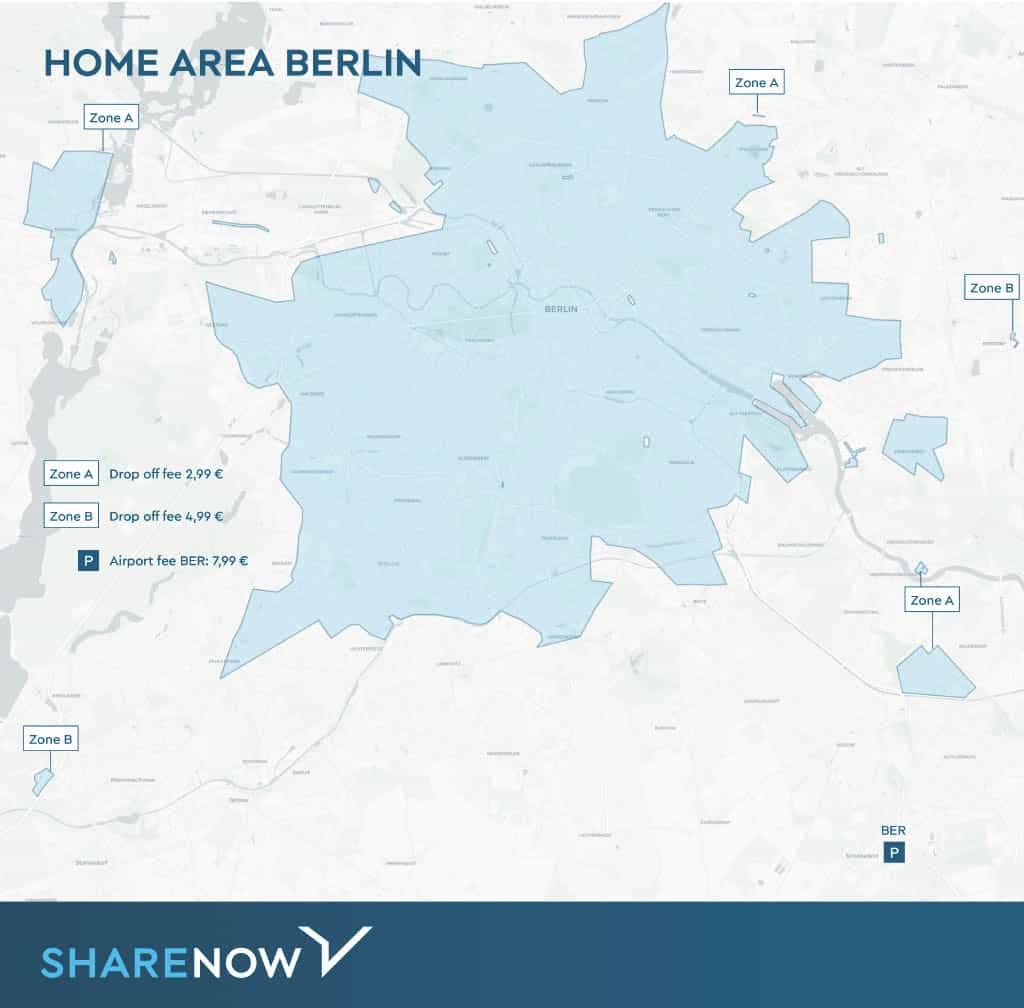 Offers
Here are some offer currently available for existing as well as new users of Sharenow
Miles has a unique offering when it comes to their fleet and pricing. What makes miles stand out the most is their per kilometer pricing. This means you do not pay per minute like the other companies, instead you pay per kilometer. If you happen to be stuck in traffic, you do not have to be worried about getting a huge bill at the end of your ride. Also, they have vans in their fleet which is very practical for a trip to Ikea, moving or picking up a second hand furniture you bought on eBay Kleinanzeigen.
Pricing
Miles Carsharing has gotten a bit simpler in recent months. You pay €0.89 per km for any small car, For vans and transporters you pay €1.19 per kilometer. There is also a €1 Unlocking fee. Parking and stopovers cost €0.29 per minute for any vehicle.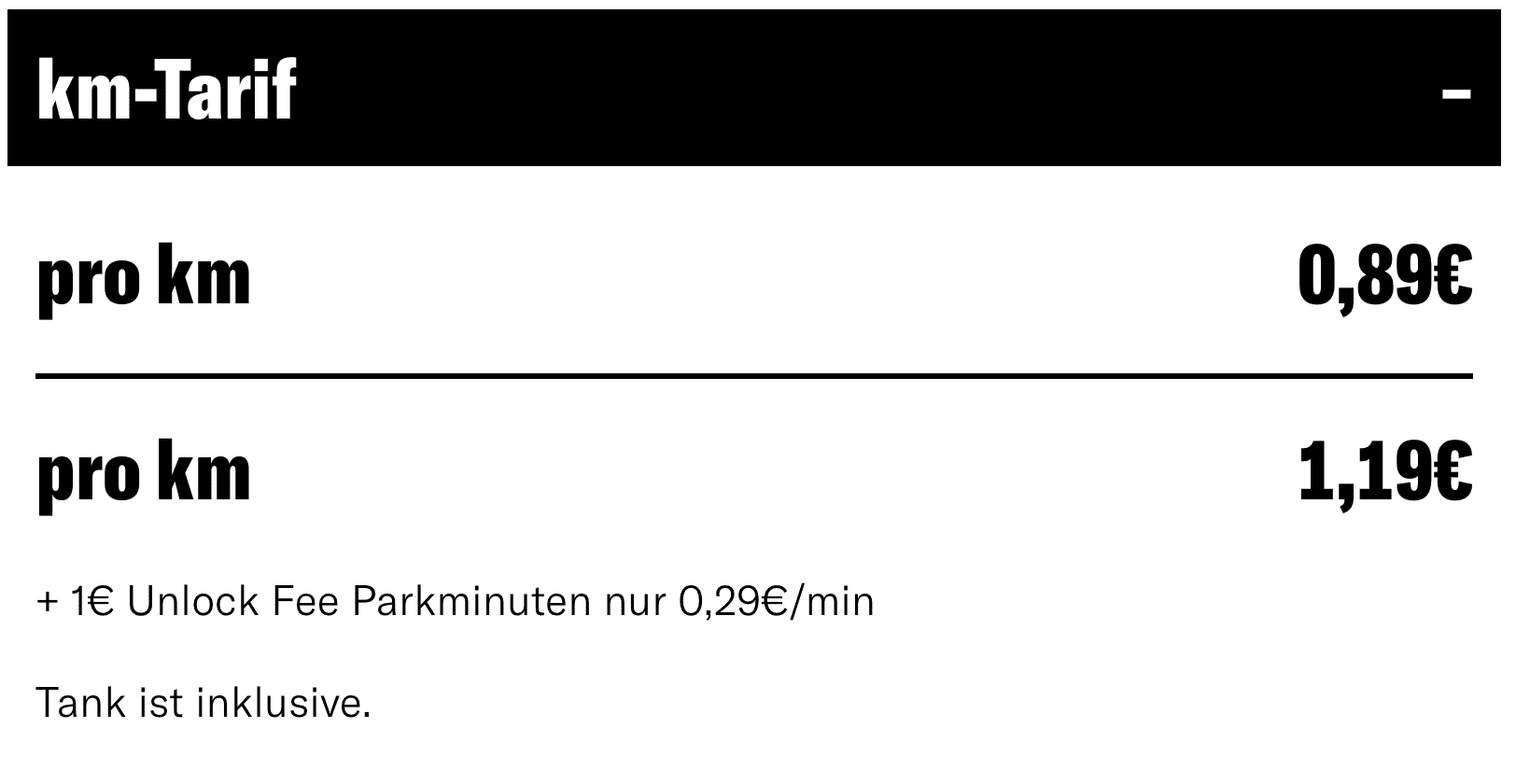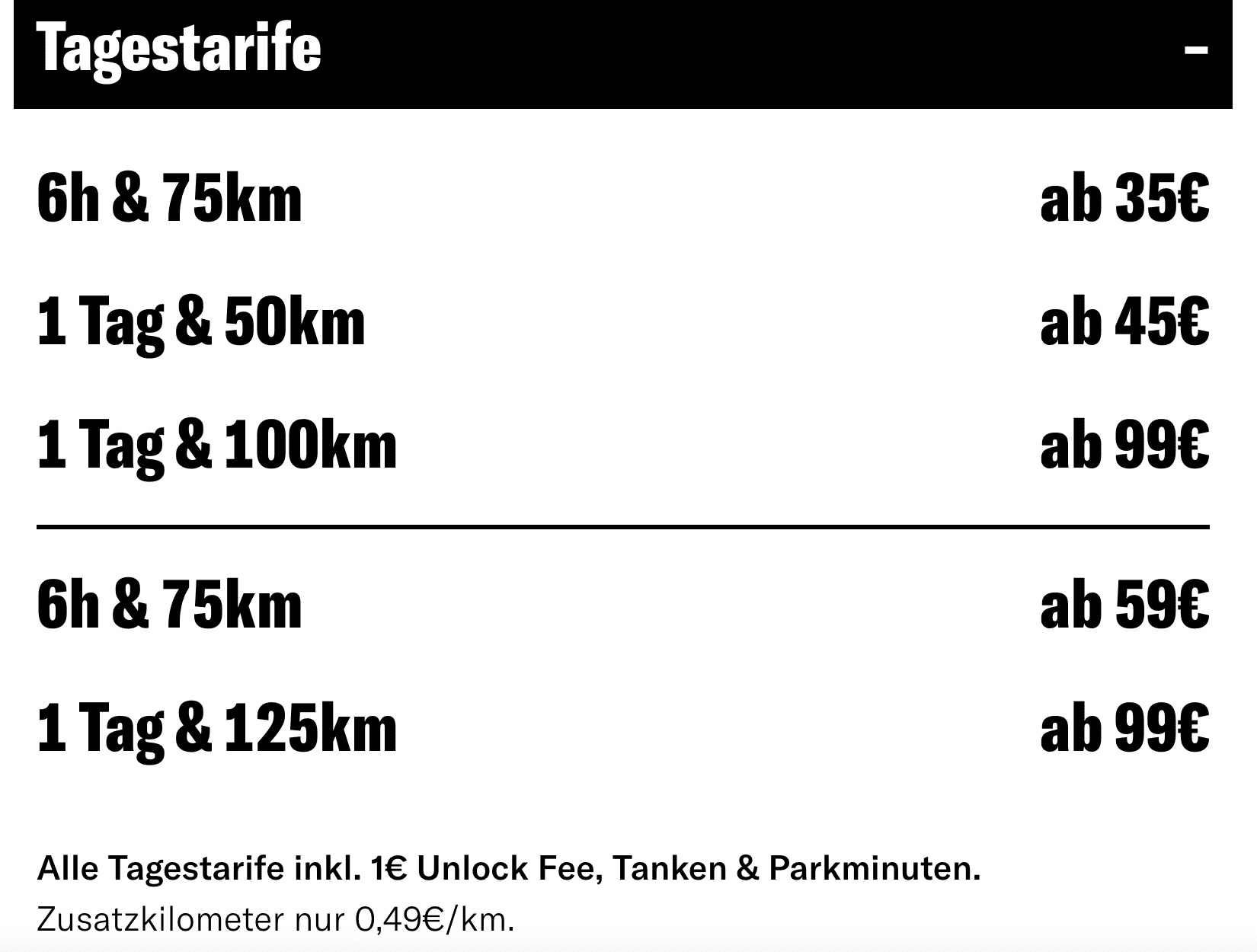 Service Area
Just like any of the other car sharing providers, you can end your rental only within the designated service area. Miles has a wider area than most providers. Also, miles has a fleet in Potsdam, which makes it easy for you to commute from Potsdam to Berlin and vice versa without having to worry about making a stopover.
You can drive with a Miles car outside Berlin as well as out of Germany. You only have to make sure to end it back in Berlin or Potsdam.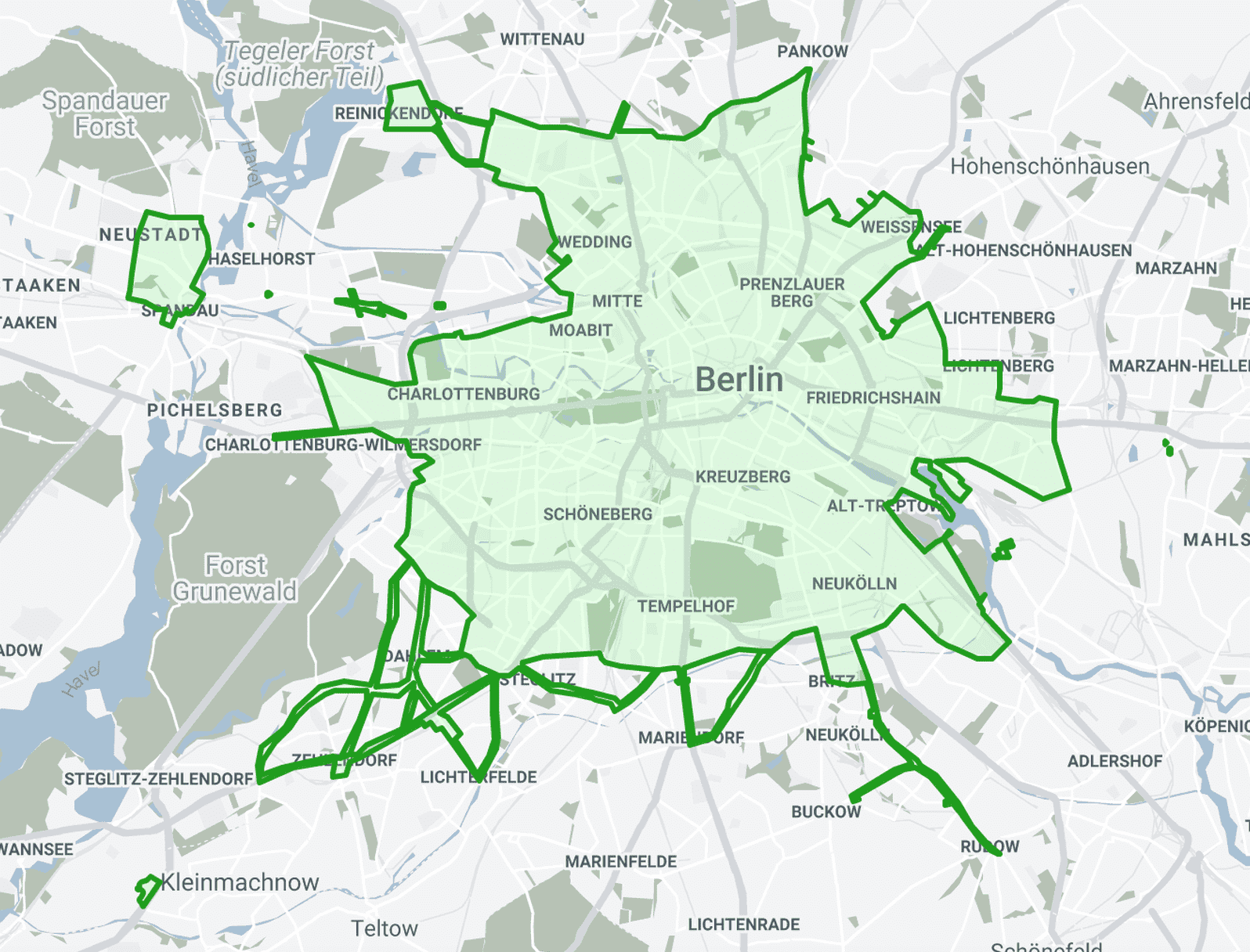 Sixt is well known to be a traditional car rental company. They launched their car sharing offering in 2019 which has been very interesting. They came into the market with a very competitive pricing, especially with their electric vehicles, which cost about €0.09 to rent. You can rent e-scooters as e-rollers with the sixt share app.
Pricing
Sixt share still markets as starting from €0.09 per minutes. We found this to be a bit unrealistic in real life. This is because sixt changes the tariffs depending on factors such as time of day, location etc. This dynamic pricing we believe might even differ from user to user makes it a bit hard to determine what it will cost any user at any time. We say an average of €0.23. There is, however, no unlocking fee, which gives some room for the slightly higher per minute price.
Offers
Here are some offer currently available for existing as well as new users of Sixt Share
How to Register for Carsharing in Berlin
Time needed: 1 day
How to register for Carsharing in Berlin
Download the app

For all the carsharing companies in Berlin, you will need to download their apps from the Play store or App store

Fill out the sign-up forms

Fill out your details in the welcome screen on the app and create your login credentials

Verify your driver's permit

You will need to upload a picture of the back and front sides of your European driving permit to be able to start using the service

Find a car and drive

After verification, you can then find a car using the app. You might need to enable Bluetooth to be able to unlock the car.
Our Thoughts
Carsharing is not only an environmentally friendlier alternative to owning a car in Berlin, it also saves you a lot of money. You always have a car when you need it. Then there is a question of what is the best or cheapest carsharing in Berlin. Our favorite has so far been WeShare with the WeShare+ subscription for people who want a cheap service that they can also afford to park for a few hours for a reasonable fee. ShareNow also has what they call the ShareNow Pass 25 and 50, which will five you 25 or 50% discount on the tariffs for a monthly fee of €29.99 and €119.99 respectively However, in practice, it is best if you have all the apps. Sometimes you will be in areas where your favorite provider has no car at the moment. The difference in cost will probably be a euro or two to get you home on a cold winter night. If you are going to be driving in rush hour, consider using Miles Carsharing.