Living in Berlin has gotten more expensive in the last few years. Compared to cities like Munchen it is still not a very expensive city. Germany is known for being a highly taxed country. Taxes and deductibles can take up to 42% of your gross salary depending on your tax class. What is driving the cost of living high in Berlin is mainly housing. Rent prices in the capital city have seen steady growth in the last 10 years. If you are ready to compromise on location, size and with a little bit of luck you can find an affordable apartment. If you want to live in the heart of Berlin, then it can get quite expensive.
Cost of Renting in Berlin and Germany
Rental prices in Berlin has gotten higher in the last few years but compared to other major cities in Europe and the world it is relatively cheaper. The reason for rentals becoming more expensive has been attributed to a lot of speculation on the real estate market. Berlin has also become an attractive city for multinational corporations.
The average rent in Berlin is € 15.88 per square meter. According to a 2021 rent index report by Wohnungsboerse, this is how much cold rent(kaltmiete) you can expect to pay for Berlin and Germany for various apartment sizes.
| Area in Square meter | Berlin | Berlin Area | Germany |
| --- | --- | --- | --- |
| 30m2 | 21.32 € | 21.36 € | 12.75 € |
| 60m2 | 15.57 € | 15.60 € | 8.38 € |
| 100m2 | 15.30 € | 15.32 € | 9.46 € |
The least expensive housing you can get will be to rent a room in a shared apartment(known as WG). Cost is reduced by sharing rent and utilities with other housemates(Mitbewohner). It can also be the most social option if that is important to you.
A cost of an apartment is also dependent on which area you want to live in and what kind of apartment/amenities you want. Renting a new apartment building(Neubau) is on average more expensive than an old apartment building(Altbau). You should not dismiss Altbaus. They have their charms and can also be quite luxurious.
If you want in the middle of the city – In Berlin, popular areas such as Kreuzberg, Prenzlauer Berg and Friedrichshain can be quite expensive.
For a single person or young couple, 700 € to 1000 € is a good starting point. For families that need more room, upwards of 1500 € for a 4 room apartment is realistic. We gathered some insiders' tips on finding an apartment.
Here is how much you can expect to pay for a 2 room apartment on average in various parts of Berlin.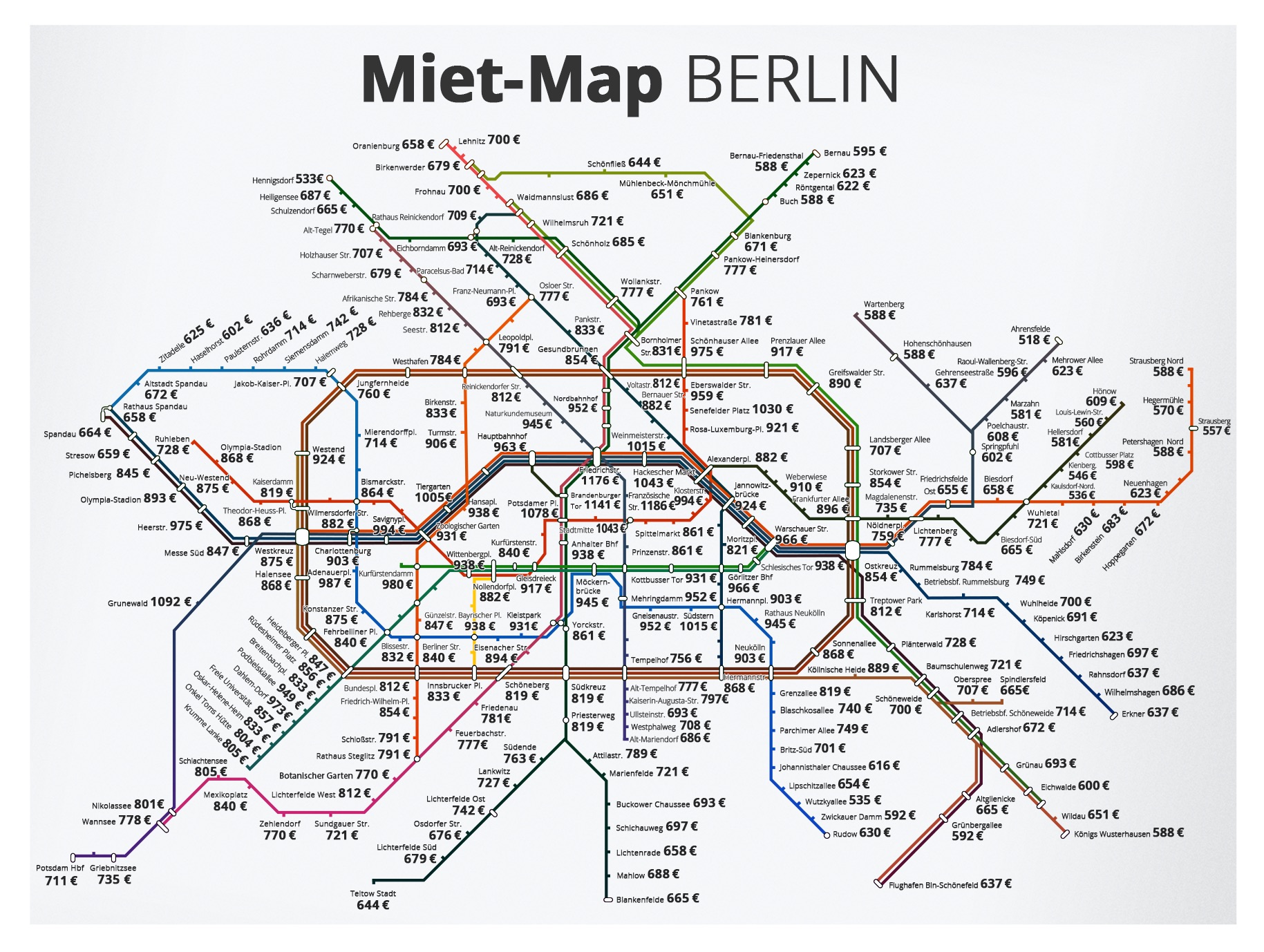 Cost of Buying an Apartment or House in Berlin and Germany.
Expats can also buy real estate in Germany. Going by the development in the market over the last couple of years, it would seem to be a good idea to buy than rent to be immune to rent price increases.
However, it is not that simple. There are some bureaucracy and implications that come from owning property.
The average price per square meter can range from 3282 for an apartment and 3085 for a house in the berlin area. It can be much pricier to buy in the city centre. You can find every price in the higher price classes.
For new developments, the price range depending on location can be from 1769 to 8029 according to this Immobilienscout report.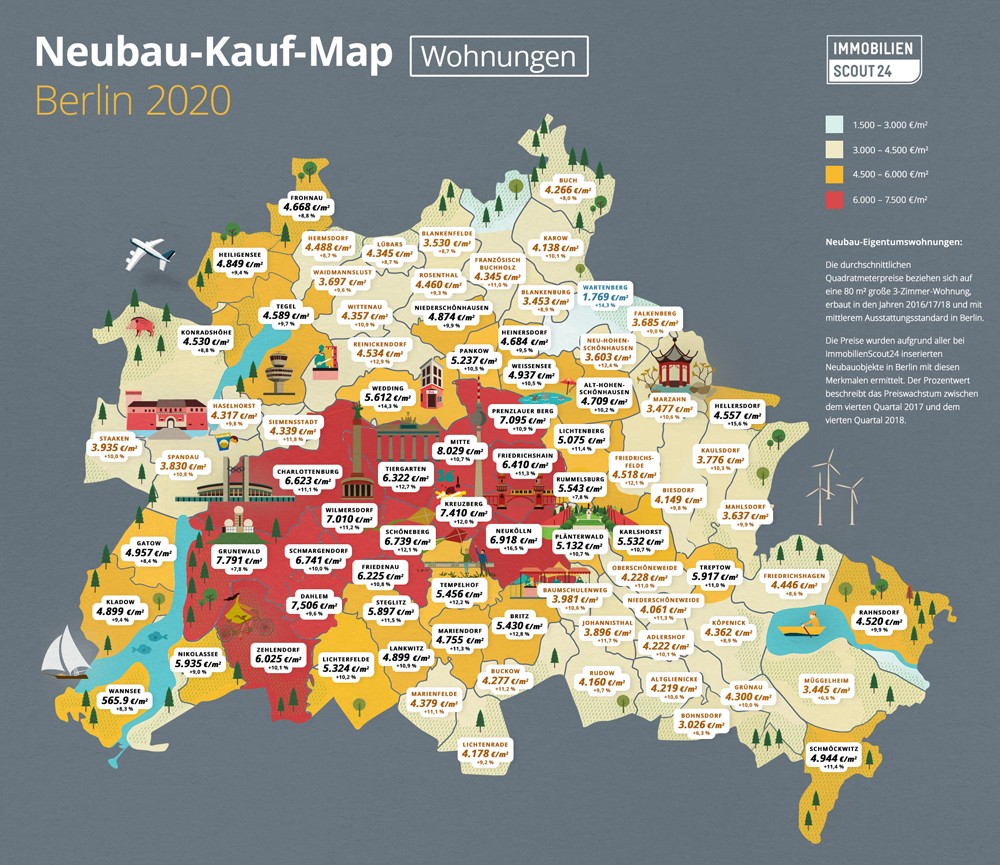 To get an understanding of how much real estate you can afford to buy, I would recommend hypofriend.
Cost of Utilities in Berlin and Germany
The cost of utilities in Berlin does not differ much from the rest of the country. Here is how much you expect to pay for utilities.
| Utilities | Single | 3 Person Household |
| --- | --- | --- |
| Cell phone | 30 Euros | 30 Euros |
| Electricity | 30 Euros (1000kWh) | 80 Euros (3500kWh) |
| Internet | 30 Euros | 30 Euros |
You will also need to pay for health insurance. How much you have to pay depends on which provider you choose, your income among other things. We shed more light on health insurance in Germany this in this article.
Again, depending on your life situation some other insurances might be required or recommended.
Here are some statistics according to the destatis of the private consumption expenditure of household in Germany from 2014 to 2019.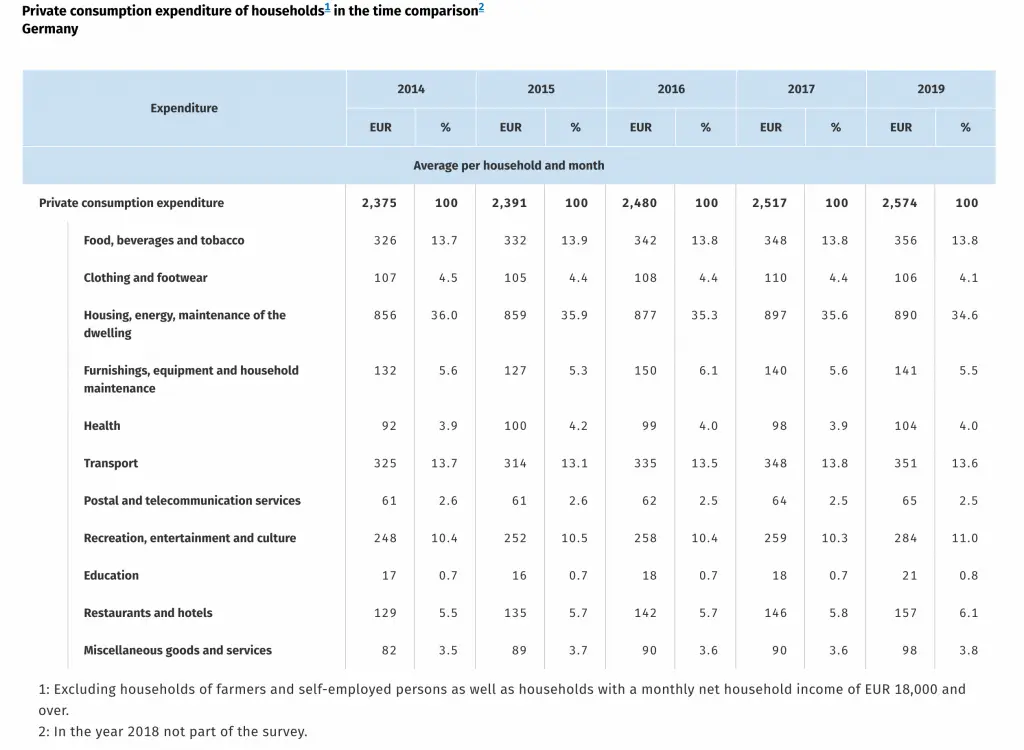 Cost of Transportation in Berlin
Public Transport
Public transport is the most popular mode of transportation for Berliners. The Berlin Verkehrsbetrieben(BVG) runs the transport system. It run a network of trains, trams and buses across the city. There are a few delays every now and then but you can rely on the public transportation system in most major cities in Germany.
You can get tickets for public transport per trip or buy in sets. Also available are daily, weekly, monthly or annual tickets.
Below is the 2021 price list in English. You can find the BVG original in German here.
BVG_Pricelist

Owning a car
Car ownership is also an alternative. Parking in the inner city can be a hustle and sometimes not free. For people living in the suburbs or in towns where public transport is not very dependable, owning a car may be the best way to get around.
The cost of ownership and maintaining a small car can be on average about 200€ per month. A mid-range car will be about 400 € per month if you are driving about 15000km in a year. If you have a particular car in mind, you can use the ADAC calculator to find out how much it will cost you. Here is how to get your driving license in Germany.
Carsharing
You do not have to own your own car to drive. Carsharing is very popular in the capital city and major cities. All you have to do is download any of the carsharing apps, register and verify your driver's license. You pay per minute or per kilometre depending on the provider. Included in the cost are gas and parking. Also, you are also insured though you may have to pay a bit extra per trip to decrease your deductible in case of an accident.
Cost of Food in Berlin
You can expect to spend an average of 345 Euros on groceries in a month. For those who eat out regularly, you can eat out for cheap in Berlin. You can have a good meal at a restaurant for about 15 Euros. Eating out once in a while will not break the bank.
Cost of Entertainment in Berlin
You can have fun in Berlin on a budget. Berlin is known for its vibrant nightlife and party scene(non-existent during Corona). There are lots of Spätis(late night shops) that are open around the clock so you can always grab a drink.
Apart from the nightlife, Berlin has a rich history and lots of sights to see for free. There are also lots of parks and lakes to hang out at.
You could have a good weekend even on 50 Euro budget or less(if you really need to)
Some Guides for Your Move to Berlin and Germany