Introduction
If you're new to Germany and are looking for a credit card, it may seem like a daunting task. Credit cards are a great way to build your credit history, and they can offer benefits like cash back, travel insurance and flexible payment plans. But with so many options available, it can be overwhelming to choose the right card for you. In this article, we'll explain how credit cards work in Germany, where to apply for one, how much they cost and the best one to get.
What are the different types of credit cards in Germany?
When you hear credit card in Germany, it may be referring to a few things. The most common types of credits cards that would be accepted in Germany are Visa, Mastercard, and America Express. 
Sometimes, the terms credit card and debit cards are used interchangeably in Germany. Debit cards usually come free with your bank account. You are able to spend only what you have in your bank account. 
A credit card on the other hand is a payment card that allows you to borrow money (usually from a bank or other financial institution). When you spend money on your card, the amount owed is added to your account balance until it's paid off in full.
Most people in Germany would not even need a credit card. Here is an overview.
Debit card: Payment card that allows you to only spend what you have in your bank account. You can make online purchases and in-person payments just like with a credit card-
Charge credit card: These credit cards charge your bank account once per month. Usually via a SEPA mandate. If you pay the in full, you will pay no interest at all. This is the most common type of credit card in Germany and relatively safer. 
Revolving credit card: With these credit cards, you will have to take a look at your bill at the end of every month and make the payment. Failure to make payments or partial payments will result in interests on the borrowed amount. I would stay away from these cards. If you get one of these cards, be sure to keep an eye on paying it off, since credit card interest rates are very high.
Prepaid credit card: You can get these in selected gas stations and supermarkets. They can be used for buying offline and cannot be topped up. After you have used the amount you bought.
What are the advantages of the credit cards in Germany?
Car Rentals: Most car rental services will insist on putting a credit card on file at pickup. Unfortunately, they will not accept debit cards most of the time.
Overdraft: With a credit card, you have access to some extra cash – more than you have in your account. It is not advisable to make a habit of this, since interest rates can quickly get out of hand.
Improves Credit score: It is believed that paying off your credit card bills on time has a positive effect on your Schufa. Just like any credit you take on, when you pay it off, it signals your creditworthiness for the future.
Insurances and Perks: One of the reasons why I would get a credit card is if they offer any perks. Most credit cards like the DKB, Miles More and the Payback American Express will have some coverage like travel insurance, car rental insurance or even cash backs. It can be an added value.
Best Free Credit Cards in Germany
The Barclaycard Visa credit card is one of the most popular free credit cards in Germany. You can pay and withdraw money anywhere in the world without charges. A good selling point is also that you can get an interest free payment plan on qualifying purchases(from 95 euros). This makes it quite attractive for students and people who just need a simple credit card that's not going to break their wallets with charges. 
Features
No extra charge on international payments and withdrawals
Apple Pay & Google Pay
Payment plans available starting at 0% interest
Free partner card
Full or partial payment of bill at the end of the month via SEPA
The Hanseatic Bank GenialCard is another great option when looking for a free credit card. The card has no annual fee, no monthly fee and no foreign exchange fees.
This card also has benefits like no cash withdrawal fee, balance transfer fee and cash advance fee. It also has ATM withdrawal options without any additional costs or fees!
However, there are some downsides as well: You will receive a bill at the end of the month and you will have to transfer money to cover it
The TF Bank Mastercard Gold is a free credit card that offers no fees. It can be used all over the world, but you should know that this credit card doesn't have any annual fees.
This free credit card is one of the best options in Germany because it has no annual fee, no foreign transaction fees and has great customer service. They offer some perks such as:
Free travel insurance
5% cashback on travel bookings
5% cashback on car rentals
Apple Pay
Google Pay
No foreign currency fees
No Interest for 51 days
The Payback American Express is one of my daily drivers. If you collect payback points, it comes in Handy. Payback is a bonus program in Germany when you get extra points when you shop at selected stores. 
You can spend the points accrued in a shop or buy something from the payback store. What most people do not know is that you can also get your points paid out to you. You can also convert them to miles. 

The payback American Express card is not only free, you also get a point for every euro spent. At the end of the year, the average person could get about 100 euros paid back.
They book your outstanding balance directly from your bank account and also handy for vacation rentals.
Best Paid Credit Cards in Germany
€2.49 per month
No foreign transaction fees
Apple Pay
Google Pay
Optional Insurance packages
Free emergency cover
DKB-Cash Visa Card is a serviceable card with lots of optional insurance packages, making it perfect for people who are just getting started with credit cards and want to take the slow approach. It's one of the cheapest and most reliable German credit cards on the market today.
This card has a €9.16 monthly fee, but it comes with great benefits that can easily make up for the expense. You get two points for every euro you spend on everyday purchases and one point per 2 euro spent on all other purchases. You also get extra points with selected offers and partners. The miles can be redeemed for free flights and upgrades. With the Miles and More Mastercard Gold, your points never expire. 
4000 miles welcome bonus
1 bonus mile per €2 spend
Acts as Miles and more service card
Premium travel insurance included (including quarantine costs)

Travel Cancellation & Interruptions
Car rental comprehensive cover
Travel health insurance
Quarantine cost
Commerzbank has a suite of credit card offering in addition to their prepaid and Mastercard debit cards. There are the 
Classic credit card

This is the cheapest of the two Commerzbank credit cards – €39.90 per year
29.90 for every additional card

Gold credit card

This is the premium offering that costs €99.90 per year and 79,90 for every extra card
Apple Pay
Google Pay
Garmin Pay
Travel Cancellation & Interruption
Travel Health Insurance
Travel Accident Insurance
Travel Service and Emergency Insurance
Access to over 1300 Airport lounges across the world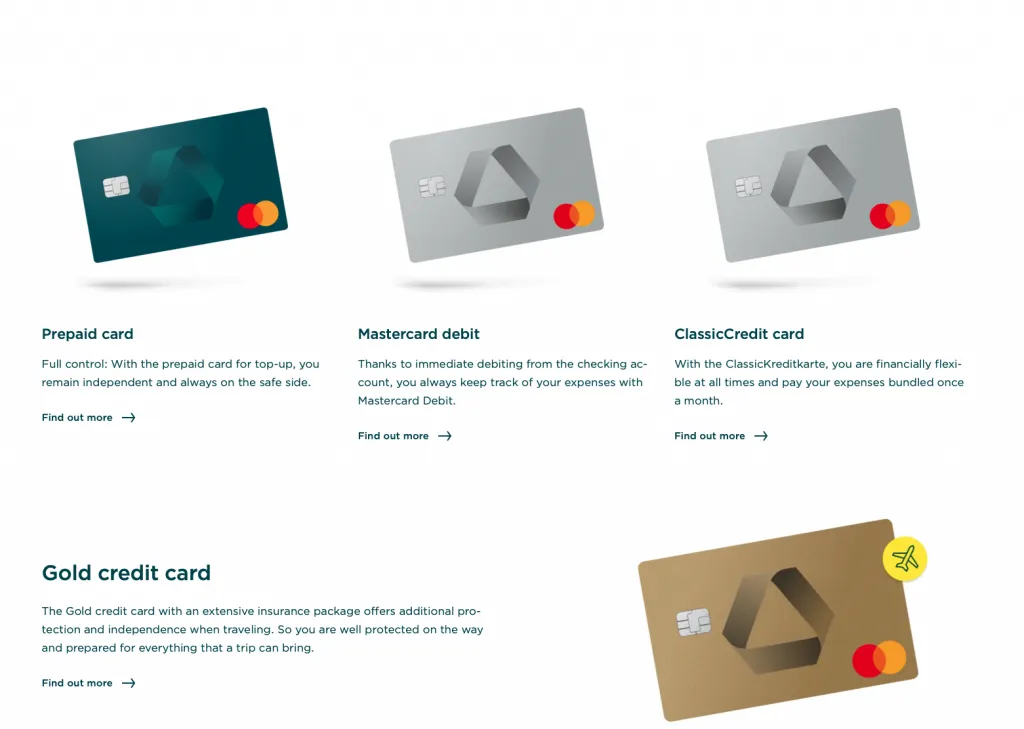 The Deutsche Bank has 4 credit cards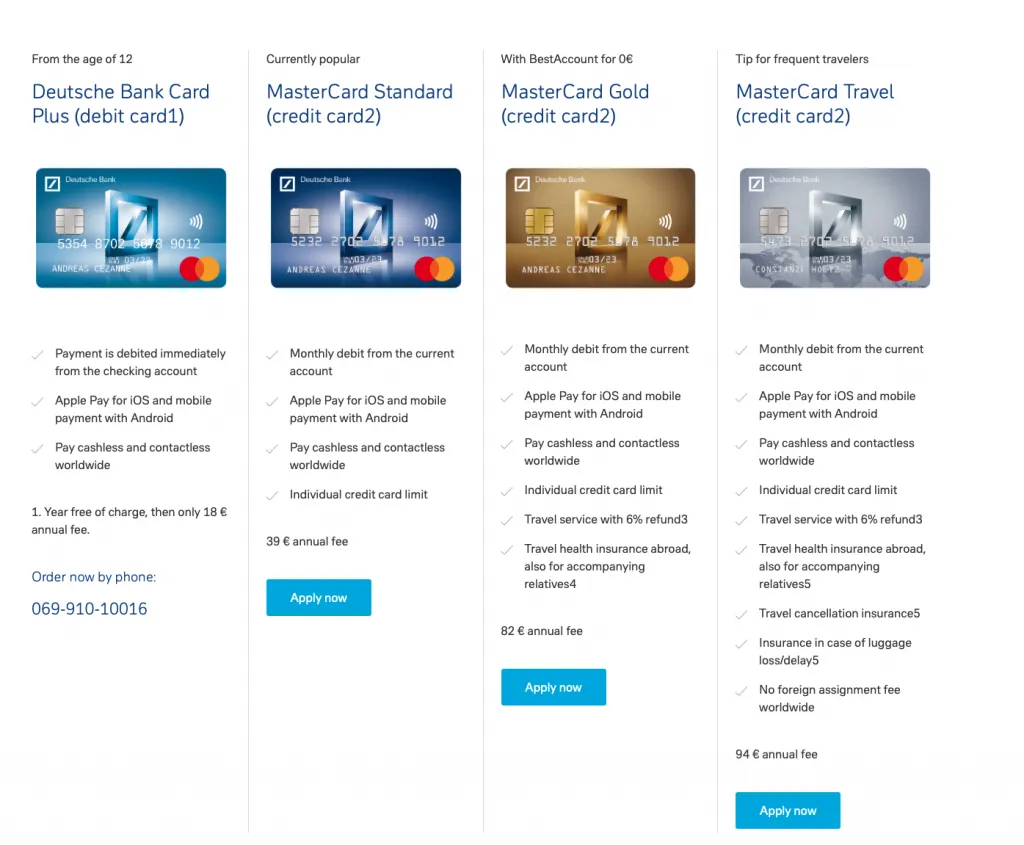 MasterCard Standard – €39 per year
MasterCard Gold – €82 per year
MasterCard Travel – €94 per year
MasterCard Platin – €200 per year
All credit cards come with mobile payments and free international payments. 
Here is an overview of the perks.
The American Express Gold is one of the most prestigious credit cards out there. They will even start you out with a 144 balance, which means you enjoy a whole year without any fees. Included are the following Insurance packages.
Travel cancellation insurance (due to illness)
Travel comfort insurance (flight and luggage delays)
Vehicle protection in Europe(in case of a breakdown)
Transport accident insurance
Travel Health insurance abroad
How to apply for a Credit Card in Germany?
You can apply for a credit card in Germany by filling out the application form online. After that, if you do not already have an account with that bank, you will have to go through the legitimation process. In a week or two you will most likely receive your PIN in the mail followed by the card a few days after. For foreigners, it is not uncommon that the bank will reach out for a copy of your residency card.
Tips for Getting a Credit Card in Germany
Getting a credit card in Germany can be a bit tricky, if you don't know what to expect. Before applying for your first German credit card, here are some tips:
Make sure you are eligible. Some banks will only grant their products to German citizens or residents; others might consider foreigners who have been living and working in Germany for some time.
Check your credit history. Every time you apply for a credit card, the institution checks your credit worthiness with Schufa. It's not good to be constantly getting denied for credit cards. You can order a free copy of your schufa report every year. Take the time out to order it and check for any irregularities occasionally.
Conclusion
I hope this article helped you find the best credit card in Germany. If you have any questions or comments, please leave them below, and I will get back to you as soon as possible.
Frequently Asked Questions
Are credit cards popular in Germany?
No, for everyday use, most Germans use debit cards. These are cards with which you can spend what you have in your bank account. However, for rentals and booking holidays you usually need to show a credit card, so it is not uncommon to have a credit card just in case.
Mastercard or Visa?
It does not really matter. Both Mastercard and Visa cards are widely accepted in Germany.
How do I get a prepaid credit cards in Germany?
You can get prepaid credit cards at some gas stations and supermarkets in Germany. Some banks like the Sparkasse also provide this for customers.
Can I get a prepaid credit card in Germany?
Yes you can. For any card for which you have not done legitimation/identification in Germany, you cannot load more credit onto the card.
Can students get credit cards in Germany?
Yes. Students can get credit cards as well as long as you have a good Schufa score. The credit line might be a bit lower than people with full time jobs, but it will increase over time.
Can I use a prepaid credit card in Germany?
Yes, you can. Mostly, you can only use prepaid credit cards only for internet purchases in Germany.
Which credit card is the best in Germany?
Here are our favorites are DKB, American Express and Barclay
Is it good to have 2 credit cards?
It is fine to have more than one credit cards if you are not planning to live on them. Interest rates on credit cards in Germany as quite high. Make a habit of using your debit cards if you can.
Does N26 have a credit card?
No. N26 offers a Mastercard debit card.